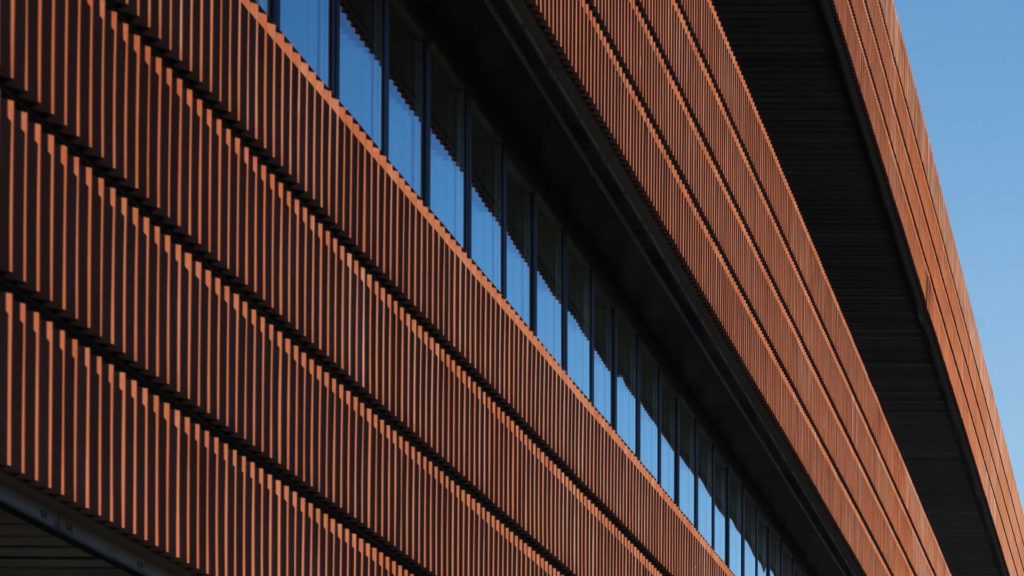 Terracotta is a type of clay that originated back in 24000 BC. Terracotta is one of the most exemplary types of clay you will ever find: a vibrant and rustic colour of orange or red. It is opulent in iron content which reacts with oxygen to give it the rural form of colour. One of the best properties of terracotta is it can withstand extreme temperature changes with a significantly lower risk of cracking down, making it highly functional. Terracotta clay is also known as the most commonly found clay. The everyday use of it could be building up structures and Terracotta facade panels. Because of its distinct qualities, it has been prevalent and has been widely used over time.
Terracotta cladding system
The Terracotta Cladding System has become the primary choice for all kinds of wall decoration for the upscaled buildings. The terracotta cladding consists of 100% natural minerals and has a higher composition of natural clay mixed with water and baked in high-temperature firing work. It is also combined with other materials such as glass, stone, steel etc., for Terracotta cladding wall -panels and designs. These days people have left behind the brickwork on walls since it used to give a little untidy texture, moving towards the Terracotta cladding for exterior wall decoration. Being in its natural clay form it Terracota clay gives the desired structure and look without making it untidy and providing the best texture and firmness. The Terracotta clay walls have proved to be very resistant to all sorts of temperature change.
Terracotta facade
Terracotta clay has always been preferred for constructing walls and terracotta facade since it consists of various factors making it Durable and robust for a long time.
Some advantages of Terracotta cladding :
Terracotta cladding satisfies the architect's design and its mixed architecture art to give it a unique and colourful look.
Raw materials like natural clay and natural water make it Safe. It does not contain any radioactive elements, and minerals like aluminium oxide and silicon oxide are completely in oxidized form, making it a Shock Resistance for the Terracotta facade.
Since the Terracotta facade is built up with terracotta clay, therefore, helps in energy conservation. As we are all aware that clay is a renewable resource and can be recycled there rather than brick Masonry, a Terracotta clay, can be used for construction purposes. Not only that, but making it environmentally friendly and low energy consumption.
Installation of Terracotta Facade
As discussed above, the Terracotta facade is highly preferred as it has a higher resistance towards climatic change. It has a high water absorption capacity because of the utilization of regular natural clay without any consolidation of other synthetic materials. They also incorporate incredible strength and quality as the manufacturing materials used are the latest and hi-tech equipped.
However, it is recommended to get the Terracotta facade panel installed by the professionals because they have a complete idea of the framework and how a facade is supposed to be installed. They conclude the work so smooth that it would enhance the beauty of the wall structure.