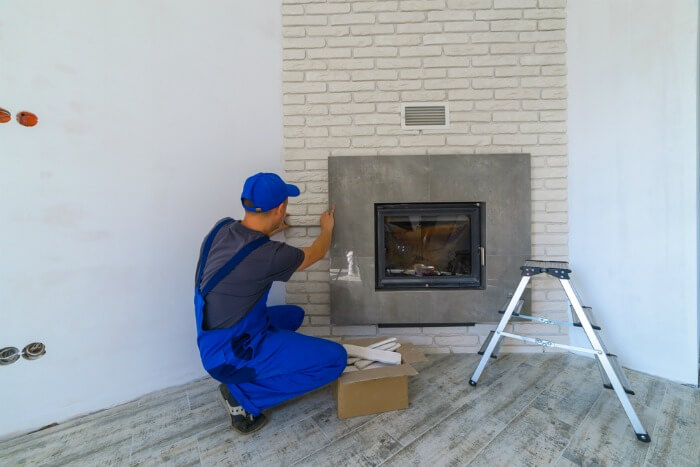 There are many benefits to hiring professional fireplace installers to install your new fireplace. First, you can save a lot of money by hiring a professional who is highly experienced in the field. An adequately built fireplace will not only look beautiful, but it will also work correctly. A poorly installed fireplace is not only unsafe, but it could also cause fire hazards. Furthermore, it may allow water and pests to enter your home, leading to costly repairs.
Electric fireplaces
Electric fireplaces require a little extra installation help when mounting them. First, you must ensure it is centered within the fireplace opening to mount one. To do this, you can use tie-down brackets and leveling screws. Then, once the electric fireplace has been mounted, it is necessary to attach trim around it. Some fireplace inserts are sold with glass frames and metal trim, but you can also order a custom trim that fits your decor.
Before you buy an electric fireplace, you should have your home electrical panel checked. An electrician can check to make sure that the outlets are grounded. Additionally, electric fireplaces do not need a hearth surround. For those unsure about the installation process, you can always hire a professional electrician to handle the work.
Electric fireplace installation costs can vary significantly depending on the zip code and region in which you live. Make sure to specify your zip code when requesting free quotes from electric fireplace installers. The cost will include the cost of the electric fireplace itself, materials, and professional labor.
Gas fireplaces
Gas fireplaces are an excellent alternative to traditional heating systems. Unlike wood-burning fireplaces, they produce no ash, soot, or smoke. Furthermore, they can last for many years. However, installing a gas fireplace can be tricky, as you need specialized tools and carpentry expertise.
Hiring a professional installer is essential if you have a gas fireplace in your home. This appliance can lead to health problems if improperly installed. In addition to professional installation, your gas fireplace will require routine cleaning and inspections. If you notice any signs of a gas leak, shut off the gas and contact your local supplier immediately.
The cost of hiring a gas fireplace installer will depend on several factors, including style and location, type of vent, and gas line proximity. Gas fireplace installers can generally charge from $500 to $3,500 for installation. Some units require modifications to walls, while others only require hooking up to the gas line. Additionally, an installer can charge as little as $10 to $20 per linear foot to extend your gas line to your home.
Wood-burning fireplaces
Wood-burning fireplace installers should have experience installing these types of appliances. These fireplaces are a safety hazard because they can cause fires. After all, burning logs and embers can escape. In addition, fireplaces can have several problems that make them difficult to install. These include fire safety, leaking chimneys, and improper venting.
A wood-burning fireplace can add warmth to a home and is an excellent value if you live in an area with lots of fallen trees. However, the wood must be seasoned, meaning it needs to be protected from moisture for six to twelve months before it can be used. Another advantage of using a wood-burning fireplace is that it can heat your home even when the power is out.
Before hiring a wood-burning fireplace installer, you should get at least three or five quotes. Please do not choose the lowest quote because it could be from an inexperienced or unlicensed contractor. If you decide to hire a contractor, check their credentials and review their services online. Make sure you choose a company with a long customer satisfaction history that offers a good warranty. In addition to this, make sure they offer you the correct size fireplace and BTU output.
Pellet stoves
Pellet stoves and fireplaces are a great way to heat your home while being more environmentally friendly. These appliances use compressed wood waste and sawmill waste products to burn, which produces less CO2 than traditional wood. However, if you are considering a pellet stove, it is crucial to find a professional to install it in your home.
If you are considering a pellet stove, you can choose from the many types available. Some are wall-mounted and require no chimney. Another option is to install a direct-vent stove. These are great for small rooms as they don't take up valuable floor space. However, installation can cost anywhere from $500 to $1,200, depending on the size of your home.
Before installing a pellet stove, make sure you have the proper venting. You will need a 5-7 foot vertical pipe to exhaust the fumes. The vent should be installed on the low-pressure side of the house and away from prevailing winds. Use the same size pipe as your existing fireplace exhaust system.
A good tip for electricians is to join professional organizations and attend conferences, seminars, and other events related to their trade.