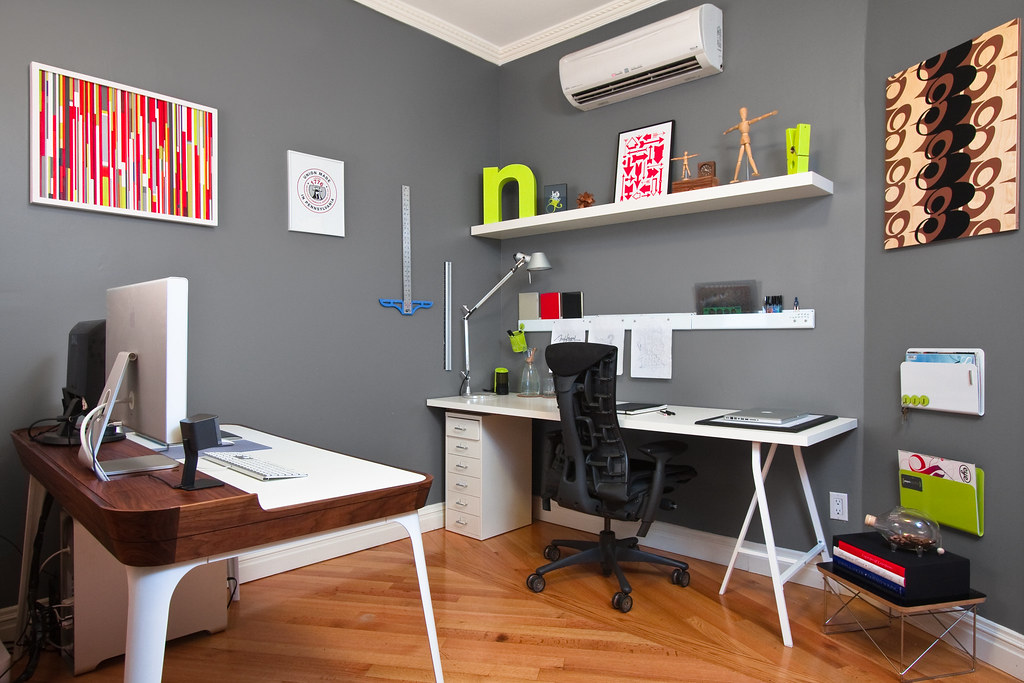 Since businesses have shifted to a digital work environment, many challenges have been faced by the general workforce. Apart from the changes in the company's work culture, workers needed to adjust and learn about the technical issues that came with the big shift. Working from home is a difficult setup for many people because many of us don't have access to a conducive home office.
It's important to set up a home area that is ideal for virtual meetings and office work. This will allow you to improve your productivity levels and motivation while remotely working. Finding ways to keep yourself comfortable yet focused should be the goal. You can get a massage chair online that you can use in between virtual meetings to keep you relaxed despite the stress from work.
Another thing to consider when setting up a home office is eliminating distractions. Your family should be aware of your work hours so that they don't disturb you while you work. Eliminating distractions will allow you to keep your workflow smooth and steady as you tick off important tasks from your list.
Benefits and Challenges of Remote Work
While employees and employers have no choice but to work from home, the remote work setup has its own merits and drawbacks. The global health crisis has changed the business setup for many companies. To accommodate the health and safety needs of the workforce, companies had to adopt a remote work arrangement.
Along with this came the pros and cons of this new work setup. While working from home has been around for a while, even before the pandemic, it is only now that many businesses have adopted this business model.
When working from home, some employees worry about their career progression. While this is so, employers have been providing team-building programs and discussions on career progression for employees. Doing so has allowed employers to address the concerns of employees surrounding career progression and their long-term growth in the organization.
Meanwhile, employees tend to work overtime when working from home compared to when they report to the office. There is now a fine line between work hours and home life. This has been detrimental to the health and wellness of employees because they allocate less time for personal matters. Some employers, however, have been implementing a work monitor to check the hours that employees allocate each working day.
Some employees have also been suffering from the physical effects of working long hours at home. While the same effects may have been manifesting even before the pandemic, working long hours in front of the computer may have made these symptoms worse. Workers need to find a way to turn their home office into a more conducive work area.
While working from home has its benefits and disadvantages, some employees now prefer the remote work arrangement because of the lessened costs they have to spend on transportation. Employees can also monitor their schedules better, especially for companies that have implemented a flexible work schedule during the pandemic.
Set Up Your Home Office 
Setting up a home office is essential in today's world. Having a specific work area at home will allow you to be more focused and productive during your hectic workdays. It will also provide you a place with minimal distractions. Family members should know when your work hours are, so they could avoid knocking in the middle of your meetings.
First, you have to find a good place at home to set up your home office. Choosing your sofa as your work area will not work. You have to designate a room and set up an appropriate desk and a work chair that suit your needs. Doing so will ensure that you have minimal distractions during work hours.
Another thing to remember when maintaining a workspace is to keep it organized. A cluttered space can increase your stress levels, so this can affect your motivation and productivity levels at work as well. Ensure to regularly remove clutter from your work area so that it is clean, neat, and ready for workdays ahead.
What is great about working from home and setting up your own home office space is you can design it however you want. You should find ways to decorate your home office to make it inspiring and motivational for you. This is your designated workspace, so make it suit your work habits.
Set aside enough time to design your home office. Doing so will allow you to make it most appropriate for your taste and preferences. Working from home has its pros and cons, but if you have the resources, make the most of this experience and make it work for you. There are many ways you can shift the remote work experience and turn it into a learning experience.